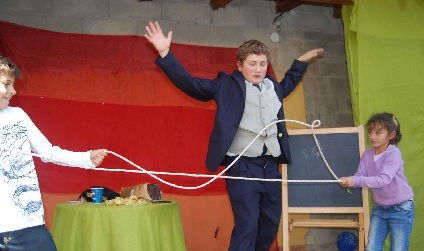 Sunday January 19 2014 – It's MARMALADE DAY again!     
Tina will be making marmalade again this Sunday. You can join her from 11 to 5 pm (you don't have to stay till the end). Please bring jam-jars (small are better than big). Participation fee: 5€ – and you take two pots home for free.
PLEASE RESERVE : leave message at 971 235 268 and let us know if you want lunch at 8€
NOTE: Cancelled in the event of bad weather – call Tina if in doubt: 680 567 494
Saturday January 25 2014 at 6pm – A MAGICAL EVENING FOR KIDS
 A special event will première in Sa Taronja's Theatre on Saturday 25th:
THE TREASURE OF SILENCE – a radio drama by and for children.
After the performance there will be a chance to learn techniques for creating sound effects and other secrets of radio art. (Note:  this spring, Eva hopes to run a radio production course for kids – put your child's name down if you are interested).
Listeners will hear the fabulous adventure of Julio who must cross glaciers, deserts and inhospitable lands and fight the dragon of fire, to recover the treasure that was stolen from his queen. The audio drama will be accompanied by realistic, evocative and atmospheric sound effects created by a group of young enthusiasts. The radio drama is directed by Eva-Carolin Ulmer, radio producer, with the participation of a group of six children aged between eight and twelve
MAGIC
To conclude the event, the young magician from Andratx, Juan "MAG SUASI" will entertain the audience with his magic tricks.
Juan is now 16 and has been entertaining the local public with his magic skills since the age of 13. A show full of humor with plenty of audience participation.
Admission: €5 children,€8 adults
Rerservations and information : call 672136343 or 971 235 268