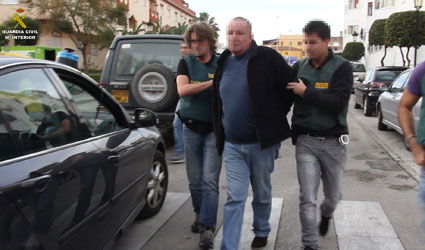 A BRITISH man, identified as Trevor Moore, 45, was arrested this week in Manilva.
According to Guardia Civil a European Arrest Warrant was issued against him by the Belgian authorities for allegedly belonging to an armed criminal organisation, drug trafficking and money laundering.
He reportedly arranged for large quantities of cocaine to be sent from Ecuador to Belgium to the Hells' Angels bikers' gang in Bruges.
The investigation began in June last year when, following a meeting between different European forces regarding the location and arrest of fugitives, the Guardia Civil learned he may be living in Malaga province, specifically in Casares.
They set up surveillance in several local leisure areas which he might visit and he was located in a country house in an area which was very secluded and difficult to access.
Surveillance had to be set up around the house from a distance. He was seen getting into his vehicle and heading to Manilva, where he was arrested.