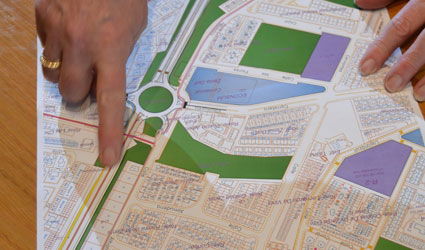 BUSINESSES and residents in La Zenia have until Monday to register their objections and opinions on proposals to close two roads off the La Zenia roundabout.
Within days of news breaking that the Ministerio de Fomento; the department for development and infrastructure, wanted to close Calle Maestro Torralba and Calle Alhambra which leads to several businesses and urbanisations, a crisis meeting was immediately held at Paddy's Point. Owner Hazel Connor said: "It will cut off all the businesses making them less accessible and is going to simply escalate the volume of traffic on the other road, it's crazy."
She said even the manager of Consum supermarket was supporting their petition as closure of Calle Maestro Torralba would prevent their delivery lorries from being able to reach the store.
Concerned groups and individuals have also held a meeting with Councillor for the Coast, Martina Scheurer who stressed the plans have not come from Orihuela Town Hall but from the Ministry who claim the area is a black spot with 44 accidents occurring in the last two years. With residents, lawyers and administrators present, they deny this figure and are calling for more evidence to back it up and for a more detailed report. The Councillor, denied the notice  making people aware of the plans was posted on Christmas Eve deliberately to limit the time available to residents to lodge their objections saying it was posted as soon as they received it. The Town Hall is going to make an official suggestion to the Ministerio de Fomento to make the roads one way rather than to close them completely.