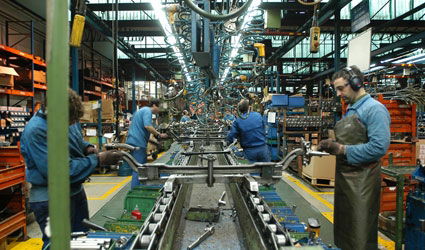 THERE was good news for the Spanish economy as manufacturing output bounced back from a dip in November to post a rise last month.
The Spanish manufacturing Purchasing Managers' Index (PMI) saw an improvement in operating conditions in the final month of 2013 as output and new orders rebounded from a fall in November.
But employment and purchasing activity were reduced further during December. Input cost inflation remained relatively muted, but firms raised their output prices at a solid pace that was the strongest since May 2011.
The seasonally adjusted Markit PMI –  a composite indicator designed to measure the performance of the manufacturing economy – moved back above the 50.0 no-change mark in December, posting 50.8 following a reading of 48.6 in November. Modest improvements in operating conditions have been recorded in four of the past five months.
Commenting on the data, Andrew Harker, senior economist at Markit and author of the report, said: "The return to growth of the Spanish manufacturing sector at the end of 2013 was a positive sign, largely as it allayed fears that the decline seen in November heralded the start of a new downturn. Rises in output and new orders lay a platform that firms will hope to build on during the new year should tentative improvements in client demand strengthen."
Manufacturing output increased in December following a fall in the previous month. Moreover, the rate of expansion was solid and the fastest since March 2011. Growth was sharpest at intermediate goods firms, while consumer and investment goods producers also raised output.
Increased production was supported by a rise in new business, which also rebounded from a fall in November. Meanwhile, new export orders increased solidly, albeit at a reduced pace.
Growth in production outpaced that of new orders in December, and panellists linked this to a fall in backlogs of work. Outstanding business has decreased in four of the past five months.
Manufacturers continued to reduce their workforces during the month, although the rate of job shedding eased to the slowest in six months. Purchasing activity also decreased at a weaker pace, but firms still lowered their input buying for the second month running. Some panellists reported having lowered purchasing activity as part of attempts to reduce stocks.
Pre-production inventories declined markedly in December, and at the sharpest pace since September. The rate of depletion of stocks of finished goods also quickened. Respondents indicated that the delivery of products to clients had contributed to lower post-production inventories.
Although manufacturing cost inflation rose slightly in December, it remained modest.
Meanwhile, firms raised their output prices for the second time in the past three months, and the rate of inflation was the fastest since May 2011.