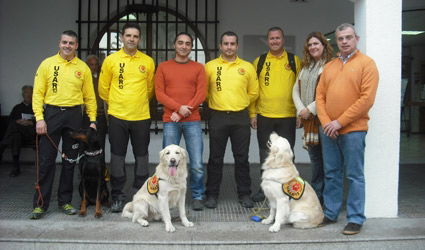 ALTEA is collaborating with the USAR13DYA association on a rescue and therapy unit using dogs.
The town hall has made a €1,000 donation to the group which can now count on cooperation from its Social Services, Health and Environment departments.
USAR13DYA is a not-for-profit organisation whose members come from search-and-rescue units, fire brigades and civil defence groups. All have training and experience both in rescue procedures using dogs and their use in therapy.
Social Services councillor Gregorio Alvado underlined the invaluable service provided by USAR13DYA.  The unit played an important part some months back in the search for an Altea resident and has helped in international rescue operations following earthquakes and other natural disasters.
"Being able to call on this group's collaboration means that we can now rely on an immediate response from qualified personnel and the dogs they have trained to locate and rescue missing people," Alvado said.
The unit's Labradors are also taught to assist in other types of rescue, because they are regularly used to assist disabled and those suffering from degenerative diseases in their daily lives.