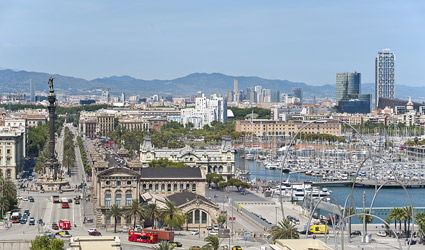 IN the last 12 months, estate agency Lucas Fox reports it has seen sales revenue nearly triple, thanks mainly to Northern Europeans returning to the market.
They speak of a surge in interest from Russia, the Middle East and China, attracted by the introduction of Spain's new 'Golden Visa' scheme and predict that property sales prices will continue to fall modestly in the first half of 2014 and begin to stabilise as the year goes on.
According to the company, 2013 was the best year to date for its Barcelona office with the average transaction value close to the €1 million mark. The number of transactions almost tripled, a trend that they expect to continue in 2014.
"The last 12 months have been a pivotal year in the Spanish luxury property market, commented  Lucas Fox co-founder Alexander Vaughan: "Confidence returned and, along with it, increasing numbers of international buyers, enticed back to the market by historic low prices in some of Spain's most desirable areas. The new Spanish residency laws – allowing non-European clients to gain Spanish residency if they invest €500,000 or more in property – means that British and European clients are now competing with their Russian, Chinese and Middle East counterparts for the best deals. There are good investment opportunities to be had but in some areas, sellers still need to adjust property asking prices in order for the market to regain momentum."
According to the latest official figures, foreign demand for Spanish property – particularly in prime coastal areas – rose 29 per cent in 12 months. In Malaga province, foreign purchases rose by 61 per cent over 12 months and by 52 per cent in Girona (Costa Brava).