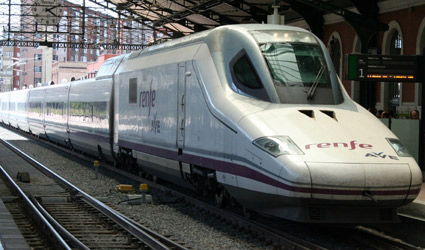 RAILWAYS OPERATOR Renfe has just finished a record year, principally due to the AVE.
Spain's 1,900 kilometres of high speed track is the most extensive in Europe and second only to China's 9,356-kilometre network. 
Continuing special offers have attracted passengers who are willing to leave the car at home when travelling from Madrid to the Costa Blanca, for instance. In 2013,  25 million passengers used the AVE and long distance trains, a rise of 13.38 per cent . That was the highest number evr recorded.
The European Commission is not entirely impressed with the AVE's nationwide performance, nonetheless.
The number of passengers using some AVE stations is "really unsatisfactory" agreed commissioner for Transport, Siim Kallas when pressed by MEP Ramon Tremosa, of the Catalan nationalist party CiU.
Money was squandered on constructing AVE stations in Tardienta and Huesca capital, Calatayud, Antequera, Puertollano, Cuenca, Utiel Requena or Puente Genil, Tremosa argued.
Despite his partial agreement, Kallas qualified his reply by explaining that the AVE would need to be in service between 20 and 25 years to give a clear cost-benefit picture.