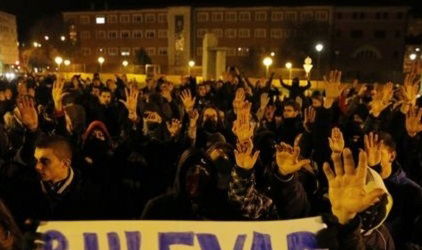 Demonstrations and violent protests in Burgos are continuing into their third day, as crowds fight to prevent the construction of a remodeling project in the city, which would reduce a boulevard by half and radically decrease the number of parking spaces.
Protesters have been marching through the streets of Burgos since Saturday. As crowds have gathered and time passed, there have been increasingly aggressive scenes, with some groups disrupting construction areas by dismantling barricades and throwing concrete blocks.  Residents say that after two months of peaceful protests, they are unable to find any other mean to express themselves. The project will cost around 13€ million, .which they find excessive during a recession
Several policemen have received injuries during the three days of demonstrations. The Secretary of State, Franciso Martinez, has blamed infiltrators and violent gangs of initiating the violence. Police have made over 40 arrests, including 11 minors.