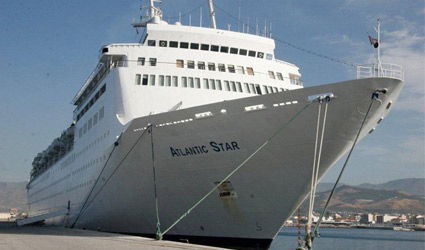 MOTRIL Port is gradually finding its place in the cruise market.
The port closed 2013 with 16,800 visitors, 36.8 per cent more than the previous year.
And even better figures are expected in 2014 as more than 29,000 visitors will go through Motril Port according to predictions.
A total of 28 cruise ships stopped over the Costa Tropical port and used it as base to later visit the Alhambra, the Alpujarras and Malaga province in 2013.
"We go upward year after year and that's rewarding considering how difficult this market is," said the President of the Motril Port Authority, Angel Diaz Sol.
2011 was the turning point in relation to cruise ships for Motril Port, and ever since the trend has always been upward.
Some 12,344 cruise passengers decided to visit the province on their own last year, whereas the remaining 4,465 paid for excursions,
These mainly took them to the Alhambra and the Alpujarras, although Granada city and Malaga province were also visited.