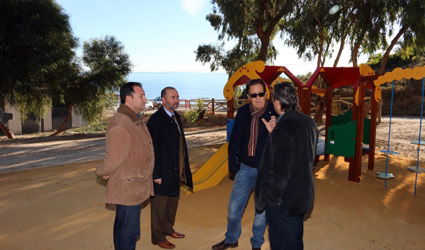 CAMPELLO'S mayor Juanjo Berenguer, accompanied by councillors, recently inspected 13 municipal projects.
As well as giving a new look to the town's green spaces, public gardens, children's play areas and streets, these also created employment and boosted Alicante firms. 
The town hall's Infrastructure department invited estimates from 25 companies, 15 of them based in Campello.  Of the 11 offers finally chosen, five were from Campello-based firms.  Outside companies took on unemployed Campello residents, bought materials from local companies and also subcontracted local firms.
The €390,203 cost of the project, which are all now finished or nearing completion, were financed by 2012's budget surplus, the town hall explained.
Amongst them is the children's playground in Cala Piteres in Coveta Fuma, the Parque de los Sentidos (Senses' Park).  This had three games based on sounds, but now has much more equipment as well as tree-shaded picnic and rest areas.  The area, only a few metres away from the Piteres tram halt, has been levelled and there are now runoffs for rainwater.