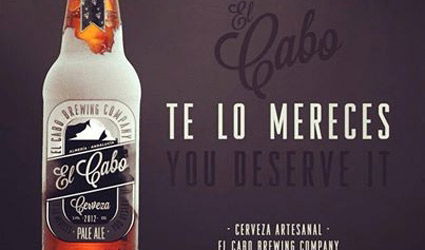 HAND brewed, natural, blonde, Almeriense and with a name that brings to mind one of the most emblematic places of the province, Cabo de Gata.
These are some of the defining characteristics of the new beer El Cabo, as described by Felix Lopez, CEO of the company. Although the firm has been brewing for the last year and a half, it was not until this summer that it  started production at the factory, which is located in Viator.
The company sells two varieties of beer, "pale ale" with 5.3 degrees and the smoother beer "select" with 6.3 degrees. The ingredients are water, barley malt, hops and yeast. "This is a pure beer, no chemicals, and is prepared in the traditional way," says Javier Yebra, production manager, who adds that the raw material mostly is national, and the malt is Andalucian and the water is from a local source.The four man team is completed by Jorge del Rey in charge of distribution and Juan Caballero design and marketing.
The initial production forecast is 30,000 litres per year, although the facilities at La Juaida have capacity for brewing 600 litres of beer a day. The company is currently in the process of positioning and promoting itself in the market. The company already has orders from Valladolid, Barcelona and Madrid and also intend to try China.
El Cabo beer is also present on social networks like Facebook, Twitter and Instagram.