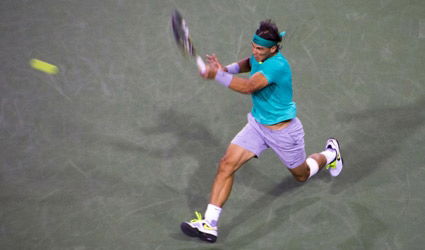 IN the second part of his interview Tony Matthews talks to Rafa Nadal, recently voted Spain's greatest sportsman of all time…
I asked 'Rafa' how did he choose to become a tennis player? 
He recalled: "I can't remember a great deal about my childhood, but I do know – my parents told me this – that when I was about three-and-a-half years old, my uncle, Toni Nadal, a former tennis professional, started playing the game with me in the family garden. I apparently loved it.
"At the age of eight, I had the honour of winning an under-12 regional championship in Spain, and this achievement gave my uncle the incentive to step up my training.
"Uncle Toni had noticed that I enjoyed playing forehand shots with both of my hands holding the racket. My uncle told me this was wrong and quickly encouraged me to play left-handed, believing it could, and would, give me an edge on the court over my opponent.
"When I was just 12 years old, I had the pleasure of winning both the Spanish and European schoolboy titles and at age 15, I was asked to turn professional. My answer was a definite yes, and immediately I started playing on the junior circuit."
A year later, in 2002, 'Rafa' competed in his first ITF junior event and reached the semi-finals of the boys' singles tournament at Wimbledon. And then, aged 17, he became the youngest teenager to reach the third round proper of the men's singles tournament at the All-England Club since Boris Becker in 1985.
"Those were heady days," said 'Rafa' who added: "I never saw Boris in action, as I was far too young, but I did learn quite a lot by watching videos of him, and I also picked up good things from Australians Lleyton Hewitt, Pat Rafter andMark Philippoussis  and also from Goran Ivanisevic. I loved big Goran – he was and still is, a real character and a good friend. We met up at a football match in Madrid recently… he was wearing a West Bromwich Albion shirt, his favourite team. I thought he was a player!"
In 2005, when he was 19, 'Rafa' won the French Open the first time of entering.
"I shot up to number three in the world rankings after that win; I was chuffed, really chuffed," he said.
'Rafa' won 11 singles titles that year, eight of them on clay. He was on his way to becoming a real tennis superstar.
The trophies continued to come in, despite niggling shoulder and foot injuries, and he was in tears when he beat his good friend, Federer in the 2008 Wimbledon singles final which is still the longest final in Wimbledon history.
Gold followed at the Beijing Olympics, and he quickly added another five titles to his collection title.
Talking about the future, 'Rafa' said: "I never like to compare years, or even look ahead, but it's true to say that 18 months ago nobody close to me, my team of coaches, thought I would achieve what I  did in 2013. They said it was impossible. But here we are. I'm only 27, there's a lot of tennis left in me and that's really fantastic and incredible."
NB: The first major tournament of 2014 in which 'Rafa' will be taking part is the Australia Open at Melbourne, which starts on January 13. Bring it on.