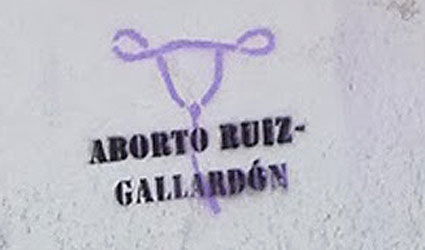 PROTESTERS asking the government to withdraw a new draft abortion law have targeted the house of the Justice Minister in Nerja with graffiti.
Members of pro-abortion collective 'Maria del Rosario y sus ovarios' have painted graffiti on a side wall on the holiday home of Alberto Ruiz-Gallardon.
The graffiti depicts what their authors describe as "a rosary in the shape of ovaries," with an inscription reading "Aborto Ruiz-Gallardon" in a pun with the minister's name and the Spanish word for abortion.
A photo sequence of the authors painting the graffiti has been put online. However, they cannot be identified as they were wearing party masks that covered their faces. 
The self-proclaimed 'anti-patriarchal' group protests against a draft abortion law recently put forward by the government. The draft substantially modifies the current abortion legislation by establishing just two cases in which having an abortion would not be a criminal offence.
That is, if the woman's life or physical or mental health are at grave risk during the first 22 weeks of pregnancy; or if the pregnancy is the result of a rape.