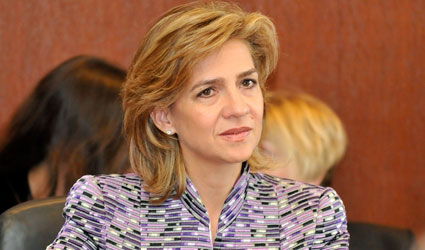 PALMA de Mallorca judge Jose Castro has made the decision to summon Spain's Princess Cristina for a court hearing for supposed financial crimes. The alleged infractions are related to the money laundering and mismanagement of funds connected to her husband, Iñanki Urdangarin, Duke of Palma de Mallorca.
Urdangarin was first implicated in November 2011 for diverting up to 5.8 million of public funds for personal benefit. The Anticorruption Bureau found the Duke to have sent significant sums of Spanish public money to tax havens abroad, including the UK and Belize.
Now the Princess Cristina has been summoned to appear in a Palma court on March 8 by Castro, who has dedicated the past nine months almost exclusively to an exhaustive revision of the Princess' bank accounts, credit cards and financial transactions.
In a 227-page case document detailing Cristina's financial activities between 2002-2012, Castro indicates sufficient evidence to suggest her direct corroboration in her husband's financial activities. 
Judge Castro's summons is in direct opposition to the opinion of the public prosecutor for anticorruption, Pedro Horrach who disagrees that sufficient evidence exists to implicate the Princess. Horrach, along with Urdangarin's legal counsellors claim that Cristina kept clear of her husband's dealings and that she should be exonerated.
Yet Castro's stance regarding the decision to summon the Princess is based in two convictions: first, to put an end to the perpetuity of the unknown, covert aspects of the Princess' role and second, to not give in to his prior assertions that "justice must be the same for all."