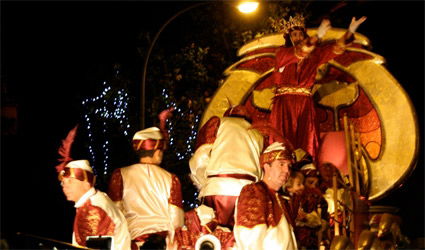 YOUNG and old throughout Spain flocked to see the Three Kings parade yesterday evening and children all over Spain are opening presents this morning.
This is the highlight of festive celebrations in Spain as the Three Kings, Melchior, Gaspar and Balthasar, better known as the Three Wise Men in UK Christian tradition parade the streets on floats, accompanied by music, their pages and cartoon characters.
The Kings throw thousands of sweets to onlookers, with some youngsters even holding opened umbrellas to catch them as the floats pass.
Spanish children believe that the Kings deliver presents on January 5, leaving their shoes on window sills that night to be filled with gifts which they have asked for.
Those who have not behaved might expect to find a sack of 'coal', represented by black, sugary sweets.
On January 6, when the children receive their presents, many families enjoy the traditional 'Roscon de Reyes', a ring-shaped cake, filled and covered with colourful candied fruit, representing the Kings' crowns and the jewels upon them. The Roscon traditionally has two items inside. One is a toy or trinket, which makes the finder 'King for the Day'. He or she gets to wear the crown which is normally included with shop-sold cakes of this variety. In some parts of Spain, money is also put in the Roscon.
Meanwhile, the person who gets the other item, a bean, will be the one who pays for the Roscon the following year.