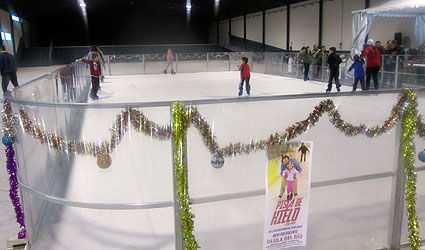 OLULA DEL RIO council is offering residents a new way to enjoy this holiday season. All budding Torvill and Deans have the chance to practice their skating on an ecological ice rink.
The rink is located in the 'Nave Polivalente' which is just down on the right hand side from the Polideportivo Sports Centre on the outskirts of the town.
The rink is open from 10am to 2pm and 4pm to 8pm and will remain open until January 20.
The price is €3 for 20 minutes and includes skate hire. The rink measures 200 metres in length and can accommodate up to 40 skaters and there is also a monitor to help any beginners.
Mario Galera, Councillor for Sports and Youth of the municipality, was pleased with the initiative. he said: "We understand that such activities are necessary and bring something new to the town, and we hope residents will come and visit and enjoy an activity which is affordable to everyone."