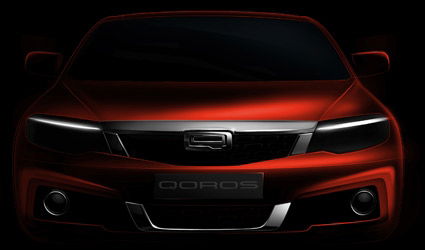 THE second production model from the Chinese car brand Qoros will be launched at the 84th Geneva Motor Show in March.
With elegance and simplicity as the key design language, the debutant will echo the high specification and European quality standards of the Qoros 3 Sedan.
The car has been designed to appeal to the young, modern, 'always connected' metropolitan customer, with state-of-the-art features including the QorosCloud infotainment system accessed via an eight-inch touchscreen.
The second member of the Qoros family is based on the same modular platform as the Qoros 3 Sedan, which made its world premiere at the 2013 Geneva and Shanghai Motor Shows.
In September, the Qoros 3 Sedan became the first car developed in China to be awarded five stars in Euro NCAP crash tests.
With appropriate proportion and balance, featuring rich and delicate details, Qoros 3 Sedan illustrates the elegance and simplicity of Qoros cars and presents a low-key luxury.
This meets the values of metropolitan consumers perfectly, the manufacturer claims.
Following Qoros' commitment to introduce a new model every six-to-twelve months, its second model will go on sale in China in 2014.
The rapid sequence of model introductions is possible thanks to an innovative modular platform and flexible product development processes.
These have been led by experienced European senior engineers and supported by engineering and systems partners.