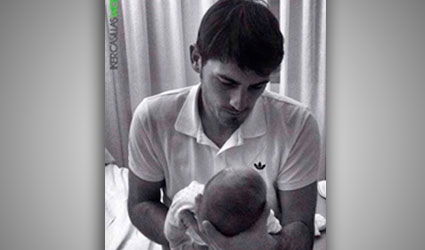 REAL Madrid football star Iker Casillas and sport journalist Sara Carbonero have become parents with the birth of their first son. Carbonero, age 29, was admitted to Ruber International Hospital in Madrid on Friday morning where she later gave birth by caesarean section. The baby's name is Martin and he weighed in at 3.58 kilogrammes (6.6 pounds). A very happy Casillas has said that mother and baby are both doing very well and are resting.
Casillas, age 32, refrained from traveling to Doha with the rest of the Real Madrid team in order to be with Carbonero during the final days before giving birth. Their four-year relationship now takes a new and dramatic turn with the arrival of their firstborn.
Carbonero's pregnancy was announced last July before the couple's holiday in the Seychelles, and the birth of little Martin CasillasCarbonero is one of the most anticipated Spanish births of the year. Within minutes of the baby's birth, the news spread like wildfire through Twitter and other social media with thousands of fans and followers congratulating the popular couple on the birth of their son.