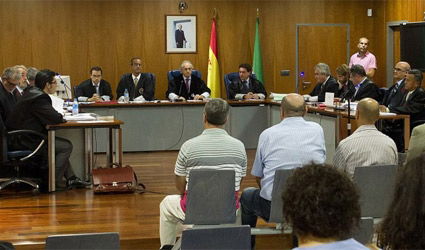 A COLLEAGUE of five National Police officers on trial for the alleged abuse of immigrants said in court that the women didn't report it because they were afraid.
The witness is the head of the group which managed the investigation into the alleged abuse, who said that the women were afraid that the accused officers could take action against them if they reported what had happened at the Centre for Illegal Immigrants in Malaga.
According to the alleged victims, the police officer working at the centre organised dinners and parties at which they gave the women gifts of chocolates or make-up and allowed them to use mobile phones in exchange for sexual favours.
The women opposed this, but according to those investigating the events, were afraid to report their behaviour. The investigation report pointed out that the women do not seem to intend to harm the reputation of the officers or obtain permits to remain in Spain.
Other evidence against the accused officers is the fact that CCTV images from the centre were not obtained at the time when these encounters allegedly took place as the cameras appear to have been stopped or cut.