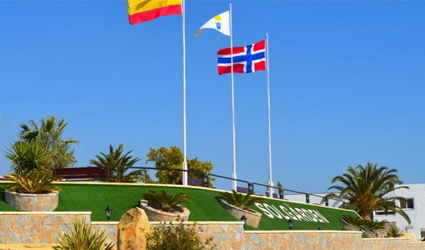 MYSTERY still surrounds the deaths of two 80-year-old Norwegian women on the AP-7 motorway.
They were holidaying at the Norwegian residence, Hacienda del Sol (Solgarden) and police are investigating why they were on the fenced motorway.
Pablo Sbertoli, manager of the Hacienda del Sol drew attention to the CV-770 road connecting the residence to the town.    The pavements are dangerously narrow and in a bad state of repair, he said.
"Norwegians love to walk, they come here for that and to connect with nature.  None of this is very helpful," he pointed out.
He had previously asked the town hall to convey his concerns to the provincial Diputacion which is responsible for the CV-770's upkeep, Bertoli claimed.
His complaints were passed on, explained Villajoyosa's mayor Jaime Lloret, although the Diputacion claimed to have no record of them.
Manuel Perez-Fenoll, who heads the Dipacion's Infrastructure department, has since announced that plans for the CV-770 are in hand.
It was decided last March to install a roundabout and improvements "when funds are available," said Perez-Fenoll.  These will affect the immediate area and include pavements.