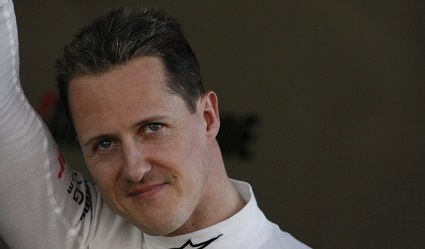 MICHAEL SCHUMACHER, former Formula One champion is in a critical condition in a coma after being injured in a skiing accident in France.
Schumacher was skiing off piste with his son, when he had the accident. Although he was wearing a safety helmet, he suffered a severe knock to his head and was airlifted by emergency helicopter services.  He later underwent surgery, when the coma was induced, to enable doctors to relieve pressure on his brain. He remains in artificial coma to protect his brain from further trauma.
According to the director of the Meribel resort, where the Schumacher family were staying, the emergency services reached him within eight minutes of the accident, when "he was in shock, somewhat shaken, but conscious" and taken to the nearest medical service in Moutiers, before being moved on to Grenoble hospital.
The 44 year old German driver won the Formula One championship seven times, achieving an incredible 91 race victories during his memorable 19 years of racing. He retired from Formula One racing in 2006, but returned in 2010 for three seasons with Mercedes; until finally retiring in 2012.