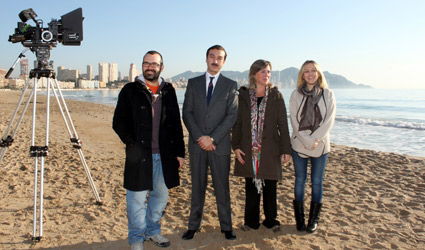 SIXTY years ago, Benidorm mayor Pedro Zaragoza Orts got on his Vespa and set off for Madrid.
This is the theme of  'Bikini: A true story' a short that will be shown on the film festival circuit and at the Fitur tourism fair.
Zaragoza knew that Benidorm's future lay in the visitors who relaxed on its beaches. That included women wearing bikinis.
Tired of seeing tourists fined by the Guardia Civil and heedless of the Church's threat to excommunicate him, Zaragoza decided to ask Francisco Franco in person to authorise the bikini.
After an eight-hour journey he was received by the dictator who, to Zaragoza's amazement gave his approval. 
Benidorm never looked back but not only because tourists (and eventually Spanish women) could sunbathe in two-piece swimming costumes. It was also thanks to Zaragoza's vision in developing a unique resort, designing a town plan that envisaged high-rise buildings and wide streets as the town spread outwards along the Levante and Poniente beaches.
Neither is the bikini anecdote apocryphal, as Zaragoza himself repeated the story of the encounter many times before he died aged 86 in 2008.