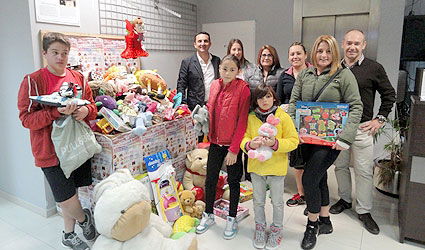 LA NUCIA organised a dance event to raise toys, not money. More than 100 people attended three classes entitled 'Let's Dance for a Christmas with toys.'
They were organised by the town hall's Sports Department in collaboration with Piscina Climatizada La Nucia.
As well as dancing at the indoor pool installation, each participant brought a toy to donate to the Red Cross for the area's disadvantaged children.
The event was led by the Piscina staff and began with a dance class with Jacks, followed by Gema's a Zumba lesson and finishing with Dolo y Sonia who gave a Latino-style class. 
La Nucia mayor Bernabe Cano, accompanied by the director of the Piscina, Silvestre Sanchis thanked all the participants in the three classes who had donated toys. 
Regular pool users also contributed and the scheme has been so successful that the time period for leaving toys has been extended.  Toys can be left at the pool's information desk until after the Three Kings holiday on January 6.  
The Red Cross is dropping by periodically to pick up the donations for distribution throughout the Marina Baja.