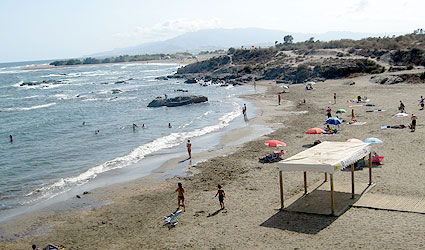 THE weather has not been kind with regard to rainfall in the Almeria province this year with almost 40 per cent less than expected according to data collected by the State Meteorological Agency (Aemet).
This year 2013 has been a hot year with above average temperatures (apart from December) and with rainfall lower than average in virtually all the months of the year.
A spokesman for Aemet Luis Fernando Lopez Cotin  explained that this Autumn has been characterised as "arid" in general terms although it was not as warm as other Autumns registered in the last decade.
However, the records confirm a warmer Mediterranean area, especially in the month of October, and the recording of low  rainfall has left a "pretty dry" season.
Cotin pointed to a"generalised deficit" of rainfall in Andalucia having between 25 and 50 per cent of the initial estimates. "Fortunately reservoirs have remained more or less full" he noted. In the case of Almeria, he stated that the  rainfall "presented itself very early in September" but was not maintained, with rainfall 30 per cent below  the initial estimate.