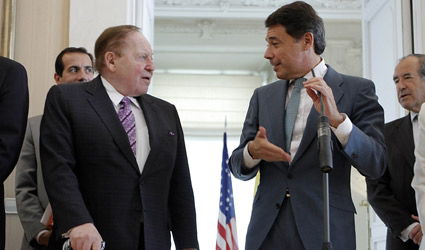 Making a date
"CATALUÑA, Cataluña, Cataluña.  It's all f—–g Cataluña."
So complained one middle-aged, middle-class Spaniard born and bred in central Spain. 
The sentiment is common in mono-lingual regions where there is scant sympathy with Spain's various separatist movements.
It is tempting to suggest that the national government wants everybody focusing on Cataluña and not other political issues.
But Catalan independence is a huge political and constitutional issue for Mariano Rajoy. 
Meanwhile, Cataluña's regional president Artur Mas has painted himself into a corner.
If he wants to remain in power – and what politician does not? – Mas must placate ERC, the nationalist republican party that provides, the CiU coalition with its parliamentary majority. 
ERC wants a referendum on the right to decide Cataluña's future and Mas has now announced it for November 9, 2014.
If Cataluña truly wanted independence Mas would have obtained an overall majority when he called early elections over the same issue in November 2012.
The EU's president Herman Van Rompuy has spelled it out time after time: if one part of a country declares independence, it leaves the EU.
The separatist parties might rubbish this warning, but voters will not and Mas knows it, too.
All bets are off

THE national government and the Madrid regional government bent over backwards – and forwards – to accommodate Sheldon Adelson.
The American casino magnate was going to locate his multi-hotel, multi-casino multi-billion Eurovegas project in the Madrid suburb of Alcorcon. 
Now he has scrapped his plans after obtaining concession after concession. The Spanish government was even looking for ways to tailor the anti-smoking laws to his liking.
Insiders hint that Adelson wanted to back out of the deal and saved face by piling on the demands.
Despite the visible disappointment of Madrid's regional president Ignacio Gonzalez, there were sighs of relief elsewhere.  Complying with all of Adelson's demands would have been the political, ethical and possibly financial equivalent of selling the government's soul to the devil.
Rajoy is on his way
IT took two years to materialise but Mariano Rajoy has at last received his White House invite. 
This materialised after he and Barack Obama met briefly at the gym in the Johannesburg hotel where both stayed for Nelson Mandela's funeral.  The date is set for January 13.
Forget the corridors of power, diplomacy is now conducted on the treadmills of gyms.
Reading the future
THE PP and PSOE, Spain's principal parties, view the May 2014 European elections as mini-primaries. 
Their respective candidates' results will supposedly provide guidelines for making up electoral lists for May 2015's municipal and regional elections.
But what will the European results prove?  They are viewed with apathy at the best of times and only hard-core card-carriers are likely to vote in five months' time. 
Hard-core card-carriers do not decide elections.  The votes of the vague, the uncommitted and the downright capricious are the real deciders.