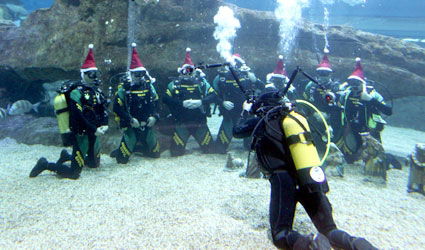 MEMBERS of the Special Underwater Group of the Guardia Civil took on one of their more unusual tasks this week, and had to dodge sharks in the process.
Seven divers and photographers took to the waters of the Aquarium of Roquetas de Mar to install the spectacular underwater Christmas Nativity scene. The Aquarium and Guardia Civil were satisfied by the exercise performed, which required special measures inside the main tank, with so many divers in the water, and the presence of the large sharks that live there.
Enrique Fernandez , director of the Aquarium of Roquetas de Mar, highlighted  the added difficulty the divers had getting down to the bottom of the tank without flippers.
Speaking of danger, underwater photographer Antonio Fernandez explained that "to dive with in the sharks you always give them respect but they do not actually do anything. Every time I have dived here I have not had any problems, the big mistake is to cross their path," he said.
This is the fifth year that the 'Belen' has been immersed. The figures are made from a special resin and a non-soluble paint so as not to harm the fish.