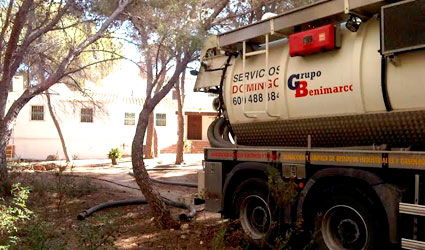 IF you have any problems with your drains or septic tank, the best solution is to call Grupo Benimarco (Servicios Domingo). They offer a large list of services like emptying and cleaning of septic tanks, filtering wells, sewage treatment and pumping stations. They can also unclog any kind of drains and sinks.
They are expert at locating septic tanks, wells, pipelines and automatic transmitters and they include in their services all plumbing and building works to provide a complete solution to your problems, eliminating the need to contract extra plumbers, electricians or builders, saving you extra time and money.
Grupo Benimarco (Servicios Domingo) workers are expert at unblocking swimming pool pipes and emptying and replacing the filters. They also empty pools for cleaning.
Their remote TV cameras can inspect pipelines to detect any cracks, holes, deformations, defective joints, penetrations of roots, corrosion and blockages and it is the most economical and fastest way to detect any problems.
You can ask them for a free no obligation quote for periodic maintenance of community water treatment plants and pumping stations. They will travel at no cost to provide you all the information about the frequency and the convenience of maintenance work. 
They can also build manholes out of concrete and with foundry covers in order to facilitate possible future blockage works. 
They are well known for their excellent service in emptying and cleaning drinking water wells in cottages and also in cleaning terraces and frontages with pressurised water.
At Grupo Benimarco (Servicios Domingo) they adapt to market demands by incorporating new services and technologies and provide free quotes and advice.
They will be pleased to visit you to give all the information required and to help you with any problem that you may have. Visit their website: www.grupobenimarco.es
You can contact them at their offices by calling 966 113 909 or 647 616 898 or by sending them an e-mail to: [email protected]
They also have 24 hours seven day a week emergency service available by calling 600 488 884.