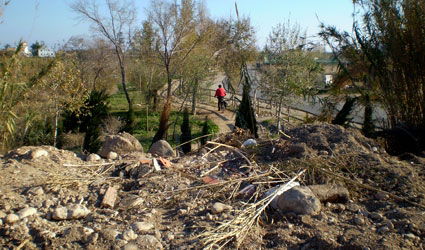 THE old gravel works on the banks of the River Algar has been dismantled. Disused since the late Seventies, the run-down installation stood out like a sore thumb and obstructed the pathway constructed three years ago.
Anyone wishing toventure further upstream had to return to the road and use the hard shoulder for a few hundred metres.
The site has now been ceded to the town hall for six years.  An agreement was recently signed by the former owner Franciso Mulet Martinez, nicknamed "Carreta," acting on behalf of his grandson, to whom it now belongs.  
The deal was the outcome of months of negotiation, said Environment councillor Miguel Angel Capilla. Now that the site has been cleared it can be re-planted with the area's traditional poplars. Non-native plants that have gradually invaded the river will be removed, Capilla said.  
"We had two objectives, announced Mayor's Office councillor Jesus Ballester.  "On one hand we want to make best use of Altea's natural heritage.  On the other, we want to eliminate black spots without incurring more expense for the town hall."