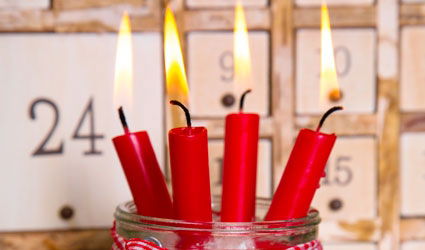 EVEN if you have changed your surname to Gonzales, dine on Calamares a la Plancha at 10 in the evening and listen to canciones de amor by Malu, I bet that when it comes to Christmas you revert to the traditions you grew up with. 
For me (being Swedish) that means a sudden need to bulk buy in the food section of Ikea – pepparkakor (ginger biscuits), lussekatter (saffron buns) and julskinka (Christmas ham) are prerequisites for a Feliz Navidad. 
And even though I ultimately lived in England longer than in Sweden, I don't pine the same way for the Queen's speech as I do for the obligatory compilation of cartoons that air on Swedish television year after year, we all know them by heart, yet it's not quite Christmas without them. 
Then there is the 1963 short film 'Dinner for One' that is compulsive viewing every New Year's eve in much of Scandinavia as well as Germany. It is a comic take on a lady in her latter years and her ageing butler, who tries his best to imitate the absent guests at her 90th birthday dinner by toasting each course from each place setting, ensuing in a rapid decent into inebriation. It's still hilarious after the umpteenth time. 
We are creatures of habit and nothing tends to bring this out more than religious festivals – even if the last time you went to church was your own christening. And it is the habits of the childhood years which outweigh the more recent ones in bringing out the lyrical traditionalist that lurks behind our adventurous expat facade. 
Psychologists reiterate the importance of traditions for children especially, who crave and need the love and security this level of sameness brings. But it is also important for the rest of us as markers of time and meaning in what otherwise may seem to be a series of random unrelated events. Family traditions, whether cultural or religious, remind us we belong to a core group, in a world where meeting one another is increasingly difficult – not least for us expats, who live far from one another. 
So, humour Uncle Frank who invariably falls asleep and snores in front of the TV; make the Turkey or julskinka the traditional way, because jazzing it up would be plain wrong, and let yourself get childishly excited about the gift in the cracker or the flickering lights from the Christmas candles; celebrate life and its joys with gusto. 
With this in mind, I shall myself be following tradition and taking a 'holiday' during the holidays, but look out for more of Expat Strife in the New Year. Merry Christmas!