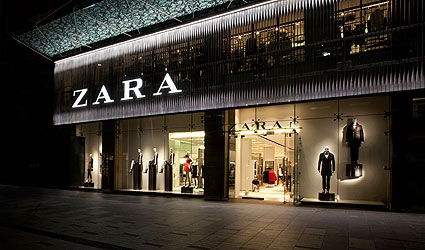 ZARA opened its first shop outside Spain 25 years ago. The chain is at the heart of the Inditex empire that made Amancio Ortega the richest man in Spain and the third-richest in the world.
The Leon-born businessman was then – and still is – based in Galicia and did not go far for his first venture abroad in December 1988, choosing Portugal. 
After expanding throughout Galicia and taking on Portugal, Zara arrived in New York in 1989 and Paris in 1990.  Next came Europe, Latin America, the Near East and Asia.
If Inditex, now present in 86 countries and with 20 online outlets, has weathered the storm it is thanks to the international market.
 Less than 20 per cent of Inditex sales come from Spain between January and July this year, compared with 33.9 per cent in 2008.  In contrast sales in Asia rose from 10.5 per cent of the Inditex total to 21.7 per cent during the same period.