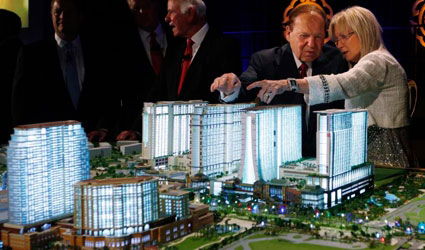 LAS VEGAS SANDS has said 'adios' to building a Eurovegas resort in Spain.
Three months after Madrid lost the race to host the 2020 Olympic Games, the Capital has now lost out on another big project; the Eurovegas resort; along with an investment of an estimated €17 billion and the creation of more than 600,000 jobs.
The first stone of the casino resort, which planned to house 12 hotels with 36,000 rooms over three phases, was originally scheduled for later this month and at the start of 2014, but will now never be laid. 
Government meetings with the US company Las Vegas Sands Corp. failed to come to agreement over certain conditions imposed by the company, with some reports saying that Las Vegas Sands Corp wanted to allow smoking in some areas, forcing a change to the current smoking ban.
Sheldon Adelson, CEO of the company, said the company will now focus its attention elsewhere. He said: "Developing integrated resorts in Europe has been a vision of mine for years, but there is a time and place for everything and right now our focus is on encouraging Asian countries, like Japan and Korea, to dramatically enhance their tourism offering through the development of integrated resorts there."