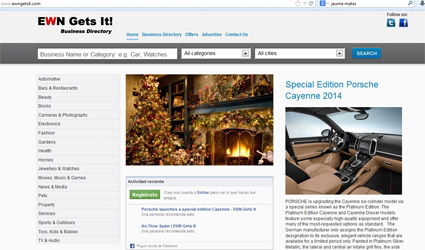 DON'T miss out on our great Christmas offer – up to a massive 70 PER CENT off the price of a listing in Spain's newest and brightest business directory.
EWNGETSIT.com is the professional online directory for any business based in Spain or Gibraltar.
Businesses wishing to reach new clients can easily benefit from this directory, which is backed up by the power of the Euro Weekly News media group.
Six newspapers read by half a million people every week, together with the Euro Weekly News website packed full of local news, point directly to the site, guaranteeing plenty of online interest for our clients. And our readers can go to the site to look up businesses across a wide spectrum of services.
EWNGETSIT.com offers flexibility and can tailor listings to individual business needs. You may enter your business into several categories to increase your business opportunities. 
We offer ongoing support ensuring you are always in control of the information in the listings for an annual fixed fee, as well as including links back to your own website within the online directory.
The directory is user friendly, the ideal way to reach a wider target audience. The site is linked to various social networking sites and updated on a daily basis.
To make sure your business is listed, and guarantee top search engine results, please contact us for more information. 
Special end of year offers of up to 70 per cent discount available for December. Contact us by email at [email protected]  or call 952 561 245 immediately for the best deals.