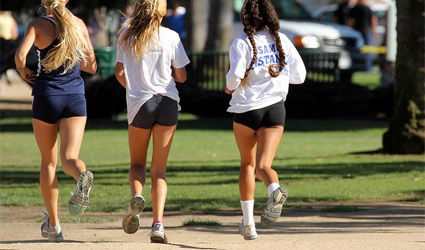 CHRISTMAS and New Year celebrations for many mean, mince pies, turkey and maybe a bit too much to drink.
News about people gaining weight during the holidays is a recurrent theme at this time of the year. A recent study in the European Journal of Clinical Nutrition has found that people who overdo the turkey, puddings and mince pies are (surprise surprise) likely to gain two kilos during the holidays. Not surprisingly the more obese are likely to put on the most weight.
Here are four steps to avoid gaining weight by counteracting it with exercise, plus a few extra tips.  While people should enjoy the food during the holiday they should return to their normal routine the next day with an easy run or gym workout.
A recent review by the British Journal of Sports Medicine found that the longer it takes people to get back to their normal exercise routines the more their enthusiasm for workouts is dulled.
Instead of putting their exercise programme on hold during the holidays people should get their training out of the way in the morning, so they don't feel tired and drained in the evenings.
A study by Appalachian State University showed that vigorous morning workouts helped average people burn an extra 190 calories over the next 14 hours on top of the 500 calories burned during the workout.
People should set themselves up for party time by having the right food while waiting for the main event.  They should consume 'smart' snacks like fruit and nuts which are at least good for you by having fibre, vitamins and proteins, and keep away from chocolates and sweets which are filled with 'empty calories'.
At work Christmas dinners or parties with friends, there's often a buffet. Instead of automatically grabbing a plate and heading off to pile the food high, people should look around and choose only what they really want, otherwise they run the risk of over eating.