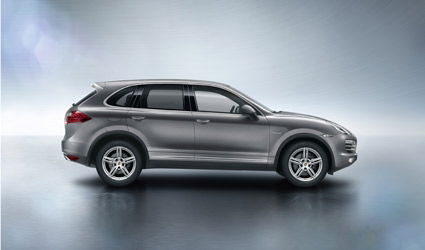 PORSCHE is upgrading the Cayenne six-cylinder model via a special series known as the Platinum Edition.
The Platinum Edition Cayenne and Cayenne Diesel models feature some especially high-quality equipment and offer many of the most-requested options as standard.  
The German manufacturer only assigns the Platinum Edition designation to its exclusive, elegant vehicle ranges that are available for a limited period only.
Painted in Platinum Silver Metallic, the lateral and central air intake grill fins, the side window strips, the rear spoiler lip and the trim strip on the tailgate create a shimmering effect.
The standard colour range includes monotone paint finishes in Black and White, and Meteor Grey Metallic, Basalt Black Metallic and Mahogany Metallic are available as further colour options.
The Carrara White Metallic paint finish is also an option available for this Cayenne edition.
The look is rounded off by the 19-inch Cayenne Design II wheels with coloured crest.
The vehicles, available from January 2014 from €75,569, come with a partial leather interior as standard, but a full leather interior is also available as an option.
The floor mats, with Luxor Beige edging and Porsche logo, and the front door entry guards with the 'Platinum Edition' logo, represent further highlights.
The Porsche Communication Management (PCM) system, including a navigation module, is also a standard feature.
The PCM includes a high-resolution seven-inch touchscreen and a sound system with 11 loudspeakers and total power of 235 watt.
The Cayenne Platinum Edition offers an output of 300 hp (220 kW).
In combination with the Tiptronic S, the vehicle's NEDC fuel consumption is 9.9 litres/100 km.
The three litre V6 engine in the Cayenne Diesel Platinum Edition offers an output of 245 hp (180 kW) and a fuel consumption level of 7.2 litres of diesel over 100 kilometres.