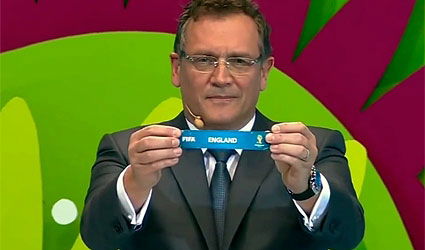 England have been drawn with Uruguay (Luis Suarez and Diego Forlan & Co), Italy (with Fabio Balotelli) and Costa Rica in group D of next year's World Cup in Brazil.
"It will be tough but it's not a disaster" said Wayne Rooney, "we have to beat the best if we are to become champions. Get out of the group and who knows."
Midfielder Jack Wilshere admitted: "Okay, it's a tough group, but so what? If we want to win the World Cup, we will have to play the top teams anyway!"
For former manager Glenn Hoddle, the draw is excellent. "The tougher the opposition the better England play. We know that both Italy and Uruguay are good sides and don't give too much away – but there's a lot worse out there and we are better when we are up against it" he said.
Ex-England striker Alan Shearer also agrees: "It will be a tough challenge, knowing that their first game against Italy will take place in the Amazon rain forest with 99 per cent humidity." 
Another former skipper, Ray Wilkins, said: "Suarez is going to have a tough end to the season. I might have a word with John Terry – Chelsea face Liverpool on April 26.
For experienced midfielders Steven Gerrard and Frank Lampard, this for sure, is going to be their last major tournament and they'll be determined to do well in Brazil. Let's hope so.  The competition starts in earnest in mid-June.
The full World Cup draw
Group A: Brazil, Croatia, Mexico, Cameroon. 
Group B: Spain, Holland, Chile, Australia. 
Group C: Colombia, Greece, Ivory Coast, Japan. 
Group D: Uruguay, Costa Rica, England, Italy. 
Group E: Switzerland, Ecuador, France, Honduras. 
Group F: Argentina, Bosnia-Hercegovina, Iran, Nigeria. 
Group G: Germany, Portugal, Ghana, USA. 
Group H: Belgium, Algeria, Russia, South Korea.