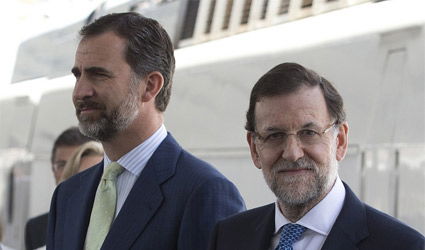 Prince Felipe and Spain's President, Mariano Rajoy, are both leaving today to attend the official memorial ceremony for Nelson Mandela to be held tomorrow, Tuesday December 10.
South African authorities have asked that each country only sends a minimum number to the ceremony, as they do not have the space and facilities to look after too many visitors.  There are already more than 90 heads of state or government who have confirmed their attendance.  The service will be held in the Soccer City football stadium in Johanesburg which can seat up to 95,000. It is set to be the biggest ever gathering of heads of state, religious leaders and celebrities; David Cameron, Barack Obama and Hassan Rouhani, President of Iran are all due to attend, as well as Oprah Winfrey, Bono, N¡cole Sherzinger and The Spice Girls.
There are expected to be many performances from the attending singers and popstars, although no official confirmation has been made with regards to a programme of events.
The actual funeral is due to be held on Sunday December 15 in Nelson Mandela's home village of Qunu.