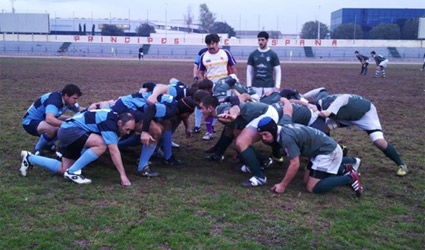 RC PONENT claimed yet another victory at home in Principes de España against Girona on Saturday in the national league
In cold, muddy conditions the home team were surprised by the speed and strength that their opponents began with. A penalty kick put three points on the score board but that was enough to wake up the local fifteen and they began to fight back. By half time the score was 19 – 3 thanks to tries scored in quick succession. During the second half the Catalans regrouped and due to some passivity and errors by RC Ponent managed to bring the score to a more equal 19 – 17. The Mallorquins responded quickly and even though Girona tried their hardest were unable to deny the final three points from a penalty kick.
As the first half of the Senior Regional League season reaches its final matches El Toro RC and Bahia RC continued their winning streak. El Toro RC played Dimonis in Manacor in difficult conditions. In a controversial match El Toro RC took the lead early on and never gave Dimonis the chance to catch up. Final score was 15 – 50. Another bonus point for the visitors.
Bahia RC and RC Ponent also played on a very difficult pitch in which the home team benefited from the strength of their forwards to beat RC Ponent by 24 – 7.
In other matches in this league Pollença RC were again unable to score against their neighbours Corsaris RFC. Score at full time was 0 – 56.
Truc Menorca made the trip to Ibiza RC for the first of their encounters in this league. Although the game was fairly equal Ibiza RC were able to put more points on the scoreboard and came out winners by 21 points to 3.
El Toro RC still leads the Regional league table and have stretched their lead by six points over Bahia RC in second place.
In the fifth leg of the Michel Rodier U16 Trophy the series of matches played in Principes de España were as competitively disputed as in previous competitions. The waterlogged pitch made running with any speed difficult and also any tackling. RC Ponent B team came out on top against RC Ponent B and El Toro RC A and B teams. Once the official matches were over the youngsters continued with a friendly match won by Ponent RC.
 The match in Regional U18 league between Dimonis and El Toro RC was postponed until December 21 due to a lack of players on the Manacor side.
A very successful Rugby day was hosted by Pollença RC in which around 100 children turned out in spite of the weather.  RC Ponent were victorious in the U8 and U10 competitions and Agora Portals came out winners in the U12 group. 
Senior Regional League matches to be played this weekend include El Toro RC at home to Bahia RC in Son Caliu on Saturday. Corsaris will play Dimonis and RC Ponent travel to Ibiza RFC.
Truc Menorca are at home against Pollença RC.
For the younger teams El Toro RC host the fifth Rugby Day beginning at 11am on Saturday as well as a match in the U18 series against Pollença RC.
RC Ponent host the next leg in the Mallorca Girls League and on Sunday the U14 teams will be heading to Mallorca Bocs ground in Inca.
 By Lynda Demangeat