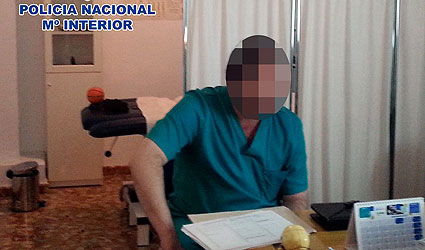 A MAN, 46, who had been practicing as a doctor in Malaga for more than 15 years without qualifications has been arrested by National Police. 
The detainee advertised his services online and had his own office since 1998. He claimed to be a doctor of medicine and surgery, forensic doctor and physiologist, specialising in sports medicine. 
Amongst his patients, he had treated an eight-month-old baby, and in his office, he had several forged diplomas for medical specialties, information about treatment and proper medical equipment and garments. Police seized an appointment book, medical histories, utensils and medicines.
He was arrested in the office while dressed in medical attire and charged with document falsification, practicing a profession without qualifications and crimes against public health. 
He was later remanded in prison.
Patients have said that he prescribed medicines and that he charged €30 for a 30-minute massage or as much as €4,700 for long-term treatment. However, none of them has complained about the treatment received from the doctor and most speak highly of him.