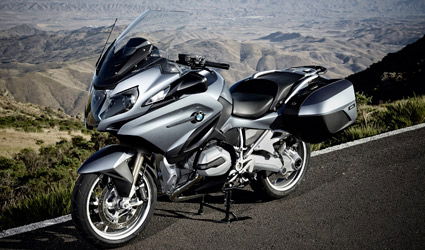 BMW MOTORRAD (motorbike) fuses comfort with sporty performance in the new R 1200 RT.
The motorcycle features a more powerful boxer engine with larger centrifugal mass for refinement and smoothness.
Derived from the boxer unit on the BMW R 1200 GS, the new engine produces a peak output of 92 kW (125 hp) at 7,750 rpm and its maximum torque of 125 Nm at 6,500 rpm.
To ready them for use on the new R 1200 RT, the centrifugal masses of both the crankshaft and the alternator have been increased, resulting in even smoother engine running.
Comfort has been given an additional boost by using a longer secondary transmission ratio to keep the revs lower, the manufacturer claims.
For optimum adaptation to the rider's individual needs, the new R 1200 RT is equipped as standard with two riding modes along with Automatic Stability Control (ASC).
The two riding modes,'Rain' and 'Road', allow the R 1200 RT to be adapted to most road conditions.
The BMW Gear Shift Assistant Pro, available as an option, enables upshifts and downshifts to be made without operation of the clutch or throttle valve in the load and rev speed ranges that are of relevance for riding.
Seating comfort and ergonomics have likewise been further improved for rider and passenger alike.
The ergonomic triangle formed by the handlebars, seat and footrests has been lowered by 20 millimetres to make it even easier to reach the floor.
The long-distance capabilities of the RT models have been improved by the addition of an optimised windshield.
The instrument cluster has undergone a complete makeover, with the new R 1200 RT now featuring a large 5.7-inch TFT colour display to provide the rider with data.
The model is available in three new colour compositions: Quartz blue metallic and Callisto grey metallic matt are combined with the contrasting colour Dark slate metallic matt, while the Ebony metallic finish forms contrast with Monolith metallic matt.