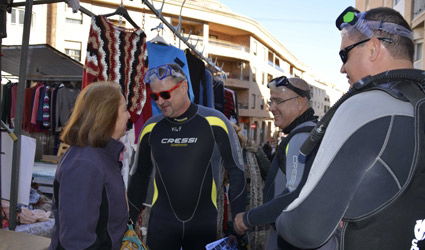 CALPE was named the ideal site for the deepest swimming pool in the world.
The Oceanus 51 group announced its choice of location during the Mediterranean Dive Show held recently in Calpe.
The 51-metre deep pool is the brainchild of Calpe diver Julio Parra who revealed that the Marina Alta town and its tourist infrastructure provide an ideal setting for the project.
The Calpe pool, designed to represent a cave, would be 18 metres deeper than the Nemo 33 pool in Brussels.
"Calpe is definitely our first option.  Now we must get this across to the town hall ," Parra said. 
The pool, entirely funded by private investment will cost between €5 and €6 million but the town hall would have nothing to pay, according to Parra.    All Oceanus 51 requires is approximately 3,000 square metres of municipal land for the pool and its installations for which it would pay ground rent. 
The project would bring around 300,000 divers and the families to Calpe each year, the diver predicted and would low-season tourism.  "Divers would come year-round," Parra pointed out.