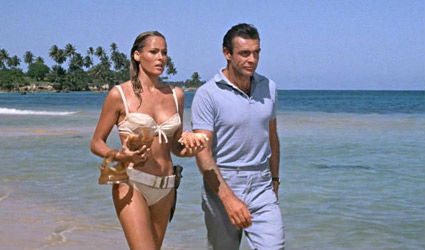 ITV has reclaimed the rights to air the James Bond franchise.
The channel has agreed a deal with MGM to make the entire 007 film back catalogue available on its various stations and on-demand. The multi-year agreement will bring the franchise – including 2012's Skyfall – back to the channel, after Sky Movies poached the films in April last year.
Skyfall is expected to receive its ITV premiere in 2014. ITV's Director of Digital Channels and Acquisitions Angela Jain said in a statement: "Skyfall is the highest-grossing film of all time at the UK box office and proves not only the enduring popularity of the Bond franchise but also its iconic status.
"I am delighted we have the entire Bond library of films on Britain's biggest commercial channel, a fantastic treat for all viewers."
MGM's Chris Ottinger added: "MGM is thrilled to partner again with ITV to bring James Bond home to UK audiences. The Bond franchise is a jewel in the MGM library and we are delighted to share the films with the viewers across the United Kingdom."
ITV has secured the rights to show highlights of Champions League and Europa League matches until 2018. The new deal with UEFA guarantees coverage of the competitions on free-to-air television from the start of the 2015/2016 season, after BT Sport paid a reported £299 million (€358 million) per year to exclusively air live fixtures for three years from the start of the 2015/16 season. ITV confirmed that a round-up of the week's Champions League games and results will air on Wednesday nights, with Europa League coverage following on Thursday evenings.
The deal includes both competitions' finals and the UEFA Super Cup, with highlights being made available on itv.com and on mobile. "We are happy to have secured these highlights packages and to be able to bring them to a significant free-to-air viewership," said Niall Sloane, ITV Director of Sport.
"ITV continues to show live coverage and highlights of Champions League and Europa League matches until 2015 [and] is the exclusive broadcaster of all England's international World Cup and European Championship qualifying matches and friendlies until 2018.
"lTV also shows the FA Cup until the end of the 2013/2014 season."
If you would like me to answer any questions you may have on satellite TV or to expand on anything I have written about, please call me on 678 332 815 or email [email protected] I look forward to your comments and questions.  Don't forget to listen to my radio show every weekday from 10am on Spectrum Radio (90.8FM Coastal & 96.1FM Inland), now covering over 2000sq kms of Costa Almeria or listen online at costaalmeria.spectrumfm.net for the latest news and views from the world of satellite television.