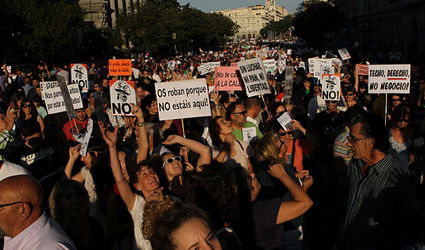 The Spanish government has approved a draft legislation dealing with public demonstrations, with fines of up to €30,000.
Offences would include insulting the state, burning the national flag or causing disturbance outside parliament. There is also a fine of up to €1,000 for insulting or threatening police officers during demonstrations.
There have been many demonstrations in Spain since the beginning of the recession five years ago against the conservative government's austerity measures. Opposition parties opposing the bill suggest that the government prefer to muzzle the citizens rather than listen to them.
The new legislation is intended to give guidelines for judges to use for certain offences, however it also includes four new offences, classified as serious and carrying fines up to €600,000. These include demonstrations that interfere in electoral processes or unauthorized protests at strategic installations, such as nuclear plants, or airports.