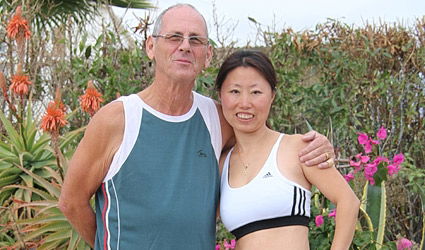 STEVE D`ALBERTANSON and wife Jing Wang from Los Gallardos are set to run in the London marathon on April 13, 2014.
 They are running under the title of 'Team Miraflores' for their chosen charity 'Calvert Trust', which is a registered charity to care for disabled children and adults to stretch their capabilities in outdoor activities. 
The 'Calvert Trust' was founded in 1978 in order for disabled people to access the challenges of outdoor adventures with the help of enthusiastic professional help.
There are three centres in the UK, based in Exmoor, Kielder, and the Lake District. The centres cover a vast range of activities from team building, wheelchair rock climbing, sailing, horse riding and many other disciplines.
The Culvert Trust was formed to incorporate the disabled into what could be classed as normal life.
Steve and Jing Wang are aiming to raise as much as they can for the charity in order to help as many disabled people as possible to benefit from this unique experience.
Steve has a great deal of running experience and has completed the London marathon twice before in  2001 and 2003. Steve and Jing have been training now for over 30 weeks and they say it is going well. They started doing three kilometres a day, and now are up to 20 kilometres. Steve is very confident they can complete the marathon in a faster time than his previous two.
If people wish to donate they can visit www.virginmoneygiving.com/steveandjing or link to http;//uk.virginmoneygiving.com/teamsteveandjing.
Progress towards their target of £4,000 can be viewed on line on their web page. For every donation of £10 or over, Steve will enter them into a draw for a three course meal and a bottle of house wine for two people at Miraflores Restaurant, camping Los Gallardos. The draw will be held on Easter Sunday. For those donations made by cash, Steve will turn every €1 donated into £1 before the money is passed on. Collection boxes can be found both at the shop and the bar, camping Los Gallardos, and at The 'Emporium' Mojacar playa, other donation sites are to be arranged.