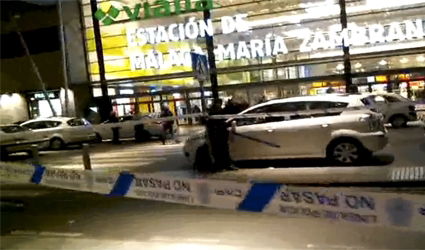 SHOTS were fired and the The Vialia shopping centre at Malaga's Maria Zambrano train station closed in a Guardia Civil anti-drugs operation.
At around 8pm last night (Nov 28) agents ordered the shopping centre's doors shut and appeared to be searching for something.  Then the entrance to the shopping centre soon became the scene of a shoot-out in a drugs operation.
According to a taxi driver parked nearby, a lady of South American appearance kept passing his taxi walking up and down, obviously waiting to be picked up. A dark Alfa Romeo stopped by her and at that moment four or five men ran out shouting "Guardia Civil".  The car immediately drove off and the lady was thrown to the floor and arrested by one of the agents.
Witnesses spoke of five or six shots being fired, although it was not clear if they were being aimed at the escaping car.
The woman arrived last night on a train from Madrid, it is believed she was a 'mule,' carrying drugs. Sources have indicated that large amounts of cocaine were found and that this is part of an on-going large scale police drugs operation.