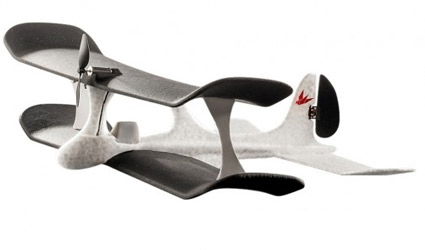 THE WORLD'S first Smartphone controlled SmartPlane has been developed by TobyRich, the german manufacturers who specialise in Smartphone controlled gadgets.
The remote control is activated simply by moving your finger along the screen and tilting the phone. There is a built-in FlightAssist programme. which automatically makes adjustments to assist with the flying. It works through Bluetooth, simply hold the phone near to the plane and it will be ready to take off!
The durable yet lightweight plane is made of polypropelene. It has been designed with damage limitation in mind, the engine and propeller are offset with the plane's nose in case of head-on collision. The range is up to around 60 metres from the hand held Smartphone.