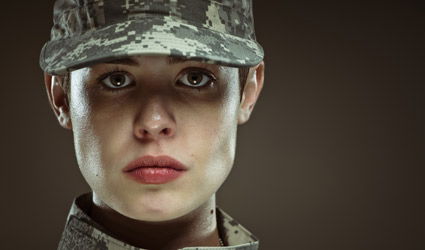 I DUNNO, you girls really do want to have that bit of cake and eat it.
For years now, in fact ever since the railing chains and racecourse 'suicide,' women libbers have fought tooth and nail to be accepted as equals to the men. And what a success the whole exercise has turned out to be. We now have female church leaders. Men only organisations are basically illegal, woman are 50 per cent partners in matrimony. Western woman are now just about accepted in every field as the equals they have always yearned to be.
And then what happens? A number of the 'sexually equal' military members then sue the army because they hurt their backs when expected to take the same spaced marching step as the men!
Give us break girls; you really can't have it both ways. The only reason you were a bit 'stretched' was because you were a bit short. Well I've got news for you. There are plenty of short men who find it a mite uncomfortable to keep pace with their taller comrades in arms; you really don't see them running to the authorities bleating about discrimination. I suggest you just get used to it. Shame on the Ministry of Defence for actually agreeing and paying out sums of money that in many cases exceeded the amounts handed out to soldiers injured in Afghanistan. Disgraceful.
Alright you 'orrible lot. Quick march. Left -ouch- right. Left-ouch-right…… Give us a break.
I suppose Cameron and his European cronies really won't be convinced that you simply cannot trust most of these mid beast leaders until Iran drops the biggest suicide bomb in history, right in the middle of Israel.
Western leader still don't seem to understand that nobody fights fair anymore. The Christmas day 'truce', decent treatment of prisoners and suchlike are things of the past. I bet the Iranian hierarchies are laughing up their sleeves at the 'stupid infidels' who actually believed they would restrict their nuclear capabilities in return for the lifting of sanctions to their country. This dangerous naivety and appeasement will get us all killed one day. Come back Winnie. All is forgiven.
Once again, thanks for all the mail. My Princes Di opinion created a virtual avalanche. Sorry all, but that was my opinion. Can't reply to 'em all, but rest assured the ol' boy peruses every one. Keep 'em coming.
Don't forget. (As if any of the money grabbing retailers would let us!) Only a month to go. Santa and his jingling pockets will soon be on the horizon. Gawd! I'm definitely not sending cards this year. Mind you I didn't send any last year either. Ah well.
Keep the faith.
Love Leapy. [email protected]