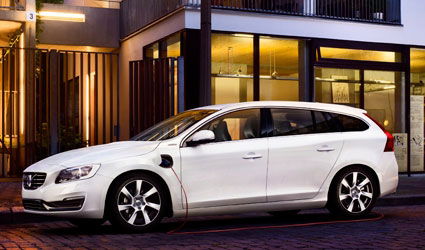 SWEDEN manufacturer Volvo has launched a hybrid version of its V60 model.
The new Plug-In-Hybrid includes most of the technology upgrades of the standard V60, while offering new possibilities thanks to its hybrid nature.
The rear axle is powered by an electric motor producing 68 hp and 200 Nm. 
The electric motor is supplied with power from an 11.2 kWh lithium-ion battery pack installed under the floor of the load compartment.
The driver of the Plug-In-Hybrid –available for €60,900- can select the required driving mode via three buttons that give the car three entirely different modes: Pure, Hybrid or Power.
In Pure mode, the car is powered solely by its electric motor as much as possible. The range is up to 50 kilometres.
Hybrid is the standard setting whenever the car is started. The diesel engine and electric motor cooperate to achieve CO2 emissions of 48 g/km (1.8 l/100km).
In Power mode, the technology is optimised to give the car the maximum possible power. 
The diesel engine and electric motor combine to deliver a total power output of 215+68 hp and maximum torque of over 600 Nm. The car accelerates from 0 to 100 km/h in 6.1 seconds.
The driver can choose to save battery power in order to drive on pure electricity later on.
When Save is activated, the on-board system ensures that there is always sufficient charge for driving later in Pure mode.
The V60 Plug-in Hybrid can be recharged from a regular power outlet (230V/6A, 10A or 16A fuse) at home or in a parking lot. 
Recharging time varies with amperage. A full charge with 10A takes 4.5 hours. This is cut to 3.5 hours with 16A, while a 6A charge takes 7.5 hours.
In this mode, the central control unit distributes power between the diesel-driven front wheels and the electrically driven rear axle. 
The electric four-wheel drive system has been designed as a traction system to provide better grip when starting and when driving on slippery roads.