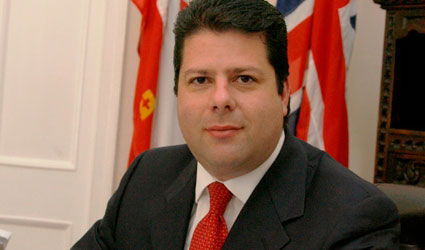 SPANISH vessels entering Gibraltar's waters may find themselves being shot at warned the Rock's Chief Minister Fabian Picardo.
Speaking on BBC Radio 4's Today programme he called for the Royal Navy to send 'more senior assets' to Gibraltar. And in a line sure to enflame Spanish passions he said Spanish ships could be seen as 'terrorists'
The interview came after the Gibraltar Government condemned the sustained incursion into British Gibraltar Territorial Waters by Spanish state survey vessel RV Ramon Margalef.
The Government takes a very serious view of this development which it says "represents yet another escalation of Spain's campaign against Gibraltar."
The standard practice has been for the Spanish navy and Guardia Civil to enter British waters and then leave. The latest incursion lasted about 21 hours with the vessel remaining in British waters overnight and ignoring the warnings to get out issued by the Royal Navy. The vessel came within 250 metres of the entrance to Gibraltar Harbour and sailed in close proximity to other ships at anchor in the Bay of Gibraltar. 
This led to a separate warning issued by the Gibraltar Port Authority on the grounds of safety to shipping.
"The Government considers that the actions of the Ramon Margalef represent an intolerable intrusion into British waters and constitute a clear violation of the United Nations Convention on the Law of the Sea (UNCLOS). There has been close consultation between the Gibraltar Government, the Foreign Office, the Ministry of Defence and the Royal Gibraltar Police throughout the incident," said a spokesman
This has prompted the summoning of Madrid's Ambassador to the UK, Federico Trillo, by the Foreign Office. Britain reiterated the commitment to hold ad hoc talks "as a means to work around incompatible positions."
During the meeting, the Acting Permanent Under Secretary also highlighted the unacceptable border delays which continue to affect Gibraltarians and tourists, as well as large numbers of Spanish commuters benefiting from employment in Gibraltar, on a near-daily basis. 
Prime Minister David Cameron's official spokesman told a regular Westminster media briefing: "Our view about the importance of the territorial integrity of our sovereign waters is unchanged.