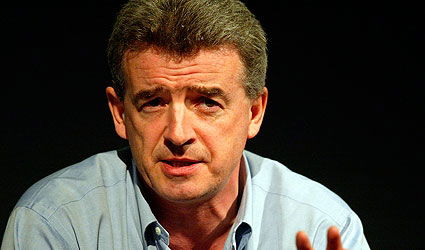 TWO bastions of British life were in the news recently. Both with their backs up against the wall in increasingly tough economic times. Will both survive and flourish? Let's take a closer look.     
First up, Ryanair. The airline's been on a massive charm offensive of late, desperately trying to improve its badly-tarnished image.
It's going to improve its website, slash charges for not printing boarding cards, even allow you to reserve seats. As CEO Michael O'Leary, who did the round of TV interviews, put it: "I want to be loved by my customers as much as I love them. Boy, are we listening and responding." Good grief! It was as if, say, John Lewis were changing its slogan from "Never knowingly undersold" to "Always out to fleece you". What an utter U-turn!
Next, M&S. When the company announced its clothing sales were down by 1.3 per cent, it blamed everything from rival shops to the warm late summer. But it's not the wrong sort of weather that's undermining M&S but the wrong sort of clothes – and management.
I have advice for M&S. Stop trying to be all things to all people. Cut your losses and just stick to chic good quality knitwear and underwear. No more elasticated trousers, peasant-style tent tops or frills, please!
But it's those Leibovitz advertising posters that shock me most: a bevy of super-successful women including Helen Mirren seemingly dragooned together at gun-point. The backdrop of the City, the world of the glass ceiling, is meant to 'showcase' female success while they're cooped up in a barge where nobody even wants to acknowledge the other. Some sisterhood! This lot look as if they've been corralled to the stern of a booze-free 'booze cruise' and are considering going for broke and swimming for it. Who authorised such misjudged advertising?
Finally, Ryanairmay never be 'lovable', but it'll be no more annoying than its rivals. And M&S? 
This used to be known for good quality basics at affordable prices. Now it too often stands for over-priced dowdiness. It can bring in all the stars it likes but it still can't beat its rivals for on-trend, well-priced clothing. It's talking the talk all right, but the walk's more of a stagger on life support. Matron, pass the meds! Quick!
Nora Johnson's thrillers 'Retribution', 'Soul Stealer', 'The De Clerambault Code' (www.nora-johnson.com) available from Amazon in paperback/eBook (€0.89; £0.77) and iBookstore.Profits to Cudeca