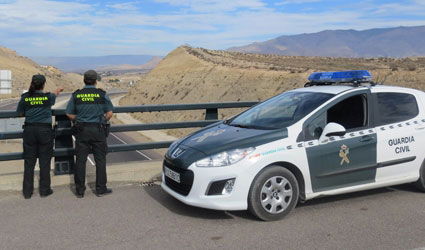 MOTORWAY safety railings were stolen and found being used as animal pens. Guardia Civil agents have now arrested two men and a 17-year-old minor in Pechina accused of six thefts from the end of 2012 and throughout 2013.
Investigations began at the end of 2012 following a complaint that many metres of perimeter railing and support posts along the stretch of the A92, passing through the town of Pechina had disappeared.
Over the next few months the crime was repeated up to six times, with the thieves removing a total of approximately 500 metres of protective barriers, causing a risk to road users, in a section with a maximum speed of 120 kmh.
From the outset, the agents centered their investigations towards Pechina, where several residents sell scrap.
As a  result of the investigation the officers found three rudimentary buildings containing animal pens made out of the stolen railings.
Agents determined that the material used in these constructions, corresponded to the material stolen from the highway. They then arrested the three accused.